Honda Warranty
Honda Marine Warranty
Warranty Periods (UK purchased and used products only)
Honda (UK) and Honda Motor Company Ltd. warrant Honda (UK) Power Equipment products to be free from manufacturing and material defects.
The Honda Authorised Dealer obligation under this warranty is to repair or replace defective parts found during the applicable warranty period. The repair will be free of charge for materials and labour. This is in accordance to each product's terms and conditions.

Outboard motor range
6 year warranty for domestic use
2 year warranty for professional use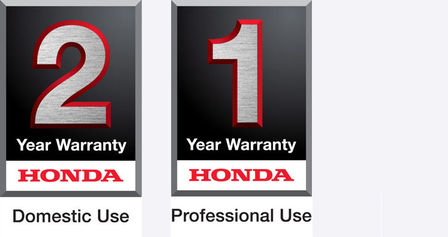 Inflatables
2 year warranty for domestic use
1 year warranty for professional use
* subject to domestic use and following the service schedule.
** up to two years dependant on engine model, please refer to dealer for specific warranty period, subject to service schedules with terms and conditions
Customer Responsibilities
It is your responsibility to ensure that the services are performed at the specified period and that the service receipt record is kept safe for future reference. In this way your machine will receive the full benefit of the Honda (UK) warranty. Regular maintenance is also essential to ensure that your machine operates safely, efficiently and with the minimum impact on the environment. For full terms and conditions and servicing requirements please consult your warranty booklet and owners manual. If you are in any doubt regarding the service requirements of your specific product please contact your supplying dealer. Alternatively call the Honda Contact Centre on 0845 200 8000.
Please note that your product will require more regular servicing / maintenance if working in very wet, dry, dusty conditions and or in high ambient temperatures.
The warranty Honda (UK) provides is in addition to your statutory rights.
How do I transfer the warranty from the first owner?
Either email us:
customer.servicepe@honda-eu.com
or write to us at:
Honda (UK) Power Equipment
Customer Service / Product Registration
Cain Road,
Bracknell
Berkshire
RG12 1HL
Please supply the following details:
Complete model and serial number information
Original date of purchase
Date of ownership transfer
Previous owner's name, address and phone number
New owner's name, address and phone number

For friendly advice on all our engines
Contact SAL Marine
01590 679588
Mon — Fri: 9am — 5pm, Sat: 9am — 12pm
Enquire Online